PERMANENT OFFER! BUY A COMPLETE CAR COSMETIC SERVICE OR FILM APPLICATION AND YOU RECEIVE AS BONUS AN OZONE TREATMENT OF THE AIR CONDITIONING.
NEW, FAST, EFFICIENT!
UPHOLSTERY AND CARPET PROFESSIONAL DRYING !!!!!!
THE CHEAPEST LLUMAR AUTOMOTIVE FILM, 7 YEARS WARRANTY, FROM ONLY 175 LEI!
---
THE CHEAPEST LLUMAR FILM, ATR SERIES, 10 YEARS WARRANTY, BACK WINDOW + REAR WINDOWS = 475 LEI!
CEA MAI IEFTINA FOLIE LLUMAR, SERIES LATI, CERAMIC TECHNOLOGY, NON-METALLISED, NON-CONDUCTIVE, 12 YEARS WARRANTY, BACK WINDOW + REAR WINDOWS = 650 LEI!
- Front windows
· 175 RON (ATC88%= 12% protection, 7 years warranty)
· 250 RON (AIR BLUE 80%= 43% protection, 12 years warranty)
- Sedan - Back window + rear windows
· ATC = 340 RON; (7 years warranty)
· ATR = 475 RON;(10 years warranty)
· LATI = 650 RON ;(12 years warranty)
- Sedan - Back window + rear windows + front windows
· ATC = 490 RON; 590 RON (with AIR BLUE 80)
· ATR = 625 RON (with ATC88) = 725 RON (with AIR BLUE 80);
· LATI = 800 RON (with ATC88) = 900 RON (with AIR BLUE80);
- Auto Break complete
· ATC = 540 RON (with ATC88) =640 RON (cu AIR BLUE80);
· ATR = 675 RON (ATC) = 775 RON (with AIR BLUE80);
· LATI = 900 RON (ATC) = 1000 RON (with AIR BLUE80)
- Auto Break without front windows
· ATC = 390 RON;
· ATR = 525 RON;
The offer is valid for small and medium class vehicles. For large class and SUV vehicles, an extra fee of 50 RON shall be charged for each version of application of the film.
For minivans, the price is negotiable depending on the amount of film consumed.
Prices include VAT.
---
SPECIAL OFFER FOR INTERIOR COSMETICS !!!!
- Prices starting from 190 LEI, small class vehicles (e.g., VW Lupo, Ford KA, Fiat 500, Opel Corsa, Smart, Mini Cooper, etc).
- Prices starting from 290 LEI, for mid-size class vehicles (VW Golf, BMW 5 series).
- Prices starting from 390 LEI, for large and SUV class vehicles.

Prices include VAT.
The offer is valid for vehicles with a normal degree of soiling. Exceptional situations will be negotiated depending on the condition of the vehicle.
For other categories of vehicles, after each assessment, the price will be negotiated.
---
NEW PRODUCT!!!!! HEADLIGHTS AND VEHICLE BODY PROTECTIVE FILM, LLUMAR PPF GCAP WITH SELF-HEALING PROPERTY FOR SUPERFICIAL SCRAPES, 5 YEARS WARRANTY, AT PRICES STARTING FROM 150 LEI !!!!!!!
---
NEW PRODUCT!!!!!
HEADLIGHTS AND VEHICLE BODY PROTECTIVE FILM, GRAFIGUARD GG15, 150 MICRONS, POLYURETHANE, 4 YEARS WARRANTY, AT PRICES STARTING FROM 90 LEI!
DETAILINGBOX
The purchase of a vehicle is an important investment of which you want to enjoy as much as possible, that you want to have as new as much time possible and that is transmitting to those around something about your attitude and personality.
Whether you are away on holiday, at a social event or shopping, take the kids to school, go to a business meeting or go out with your girlfriend, a car clean and well maintained, sanitized - which keeps the shiny as new look - stands out, creates a sense of welfare and will be a reason for satisfaction for you and your companions.
From the moment you've brought the car home, aggressive environmental factors begin to act on it and wear is felt present.
Paint and rims depolish, tires change colour, stains appear on the back seat and chairs, the carpet stains, the ceiling becomes greasy; in the spring, the air conditioning starts to smell, burning the eyes and irritating the nose, ornaments oxidizes gradually, leather decolours and begins to crack in various places, the board decolours and cracks, the steering wheel gets dirty, the headlights are chipped, grinded or crack ...... and every attempt to remove dirt from your car does not do anything else but to move it from one side to another and suddenly you realize that the car starts to look ʺoldʺ - or even older one than it is - is becomes greasy, aged, obsolete.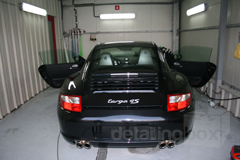 That must NOT happen. Owners of motor vehicles in developed countries, with tradition in the automotive industry, have thought that they would like the vehicles they use to show and maintain as new as much time as possible.
However, the simple washing could not respond to this demand and so the car detailing services appeared.
As the name suggests, automotive detailing is a complex and meticulous activity that has to do with cars. Specifically, with their maintenance in DETAIL, to the finest point.
An automotive detailing location offers various types of services, each of which is meant for cleaning, maintenance, protection and preservation of certain parts of the vehicle, after well-established procedures, with specific equipment, using chemicals manufactured specifically to clean, maintain and protect the machine components and last but not least, with operators trained specifically for this activity.
A service as equal in importance which we provided in our location is the APPLICATION OF PROFESSIONAL FILMS FOR PURPOSES OF SOLAR PROTECTION, REFLECTION, DECORATION AND SECURITY AND BURGLARY PROTECTION, LLUMAR BRAND, AUTHORIZED AND APPROVED BY THE ROMANIAN REGISTER OF ROAD VEHICLES, RAILWAYS TRANSPORT AUTHORITY, FOR VEHICLE WINDOWS AND BACK WINDOWS AND FOR WINDOWS ON PLANE BUILDINGS, having as main benefits:
- Increased driving comfort;
- Protection against heat and indiscretion;
- Reduction of interior decolouration;
- Reduction in fuel consumption;
- More efficiency in the Air Conditioning;
- Protection of occupants in case of accidents;
- Anti-intrusion films create an invisible protective layer on glass, thus providing protection against accidents in public glassed spaces - shops, schools, financial institutions, etc., against burglary and intrusion.
- SPECIAL vehicle sun protection film, either transparent or tinted, applied to the inside of the glass, prevents its breakage by up to several tens of seconds.
The method used by our specialists - trained by LLUMAR technicians -, DOES NOT REQUIRE DISMANTLING OF DOOR PANELS, or other parts, the film being applied in a single piece.
FILMS FOR FLAT GLASS are recommended to be applied to commercial, administrative buildings, residential dwellings, block of flats, balconies, glassed gardens, or any other place where protection against solar energy, saving energy and money, and privacy are paramount objectives.
LLumar decorative films can be used for more special arrangement of offices, restaurants, retail spaces, hotel rooms. Mat decorative films allow daylight penetration in part, but also provide protection against prying eyes, so it becomes a solution for enhanced privacy in homes and offices.
When this formula is enriched by an experience of almost 10 years, the result is a recipe that guarantees exceptional quality of such services, provided in our motor service, under the brand DetailingBox - Details Make the Difference!, and solutions to all that can affect your vehicle.
WHY? - Because, for us are important details in your car, because we clean them, protect them, preserve them, and the whole results in getting a car as clean as you want to have every day!
One of the characteristic features of the DetailingBox concept is treating each customer as a single entity because each vehicle has an owner that is unique in his/her own way.
By logical deduction, the vehicles is also used and affected implicitly in some way.
As a result of this, for getting the best results, we do not have a general magic solution - by phone, for example - from the beginning - we do not know what to do until we see, we find and assess the situation - and we only have well established procedures, professional operators and a suitable technology in conjunction with our experience in Detailing of almost 12 years.
We want to become your consultant in the field of vehicle maintenance: to act if you must, when we ought to, as we should act and to produce savings in the family budget.
And what is most important - we believe - is that we want to do all this for all car owners, regardless of brand, value or family income.
WE DO NOT WANT TO TAKE YOUR MONEY, BUT YOU SOLVE YOUR PROBLEM!
We can say, without pretending to exaggerate, that we are the best professionals in automotive cosmetics in the Western part of the country in providing these services at a level of exceptional quality, in an excellent location, equipped with the latest machinery, using organic raw materials, of controlled origin, checked and guaranteed, dedicated to component parts of the motor vehicles, which are the same as those in the US and the countries in Western Europe.
You can convince yourself of this by visiting our location and if you are not fully convinced, you can request a demonstration to our operators, at no cost, on a certain portion of the surface of your car.
We are waiting for you! Come with confidence! We are sure that you will be satisfied and you will become our customer!